Plowsnow.com sets the standard for commercial snow and ice management in the Chicagoland area. Our comprehensive service portfolio and proven business model power extraordinary results for our clients.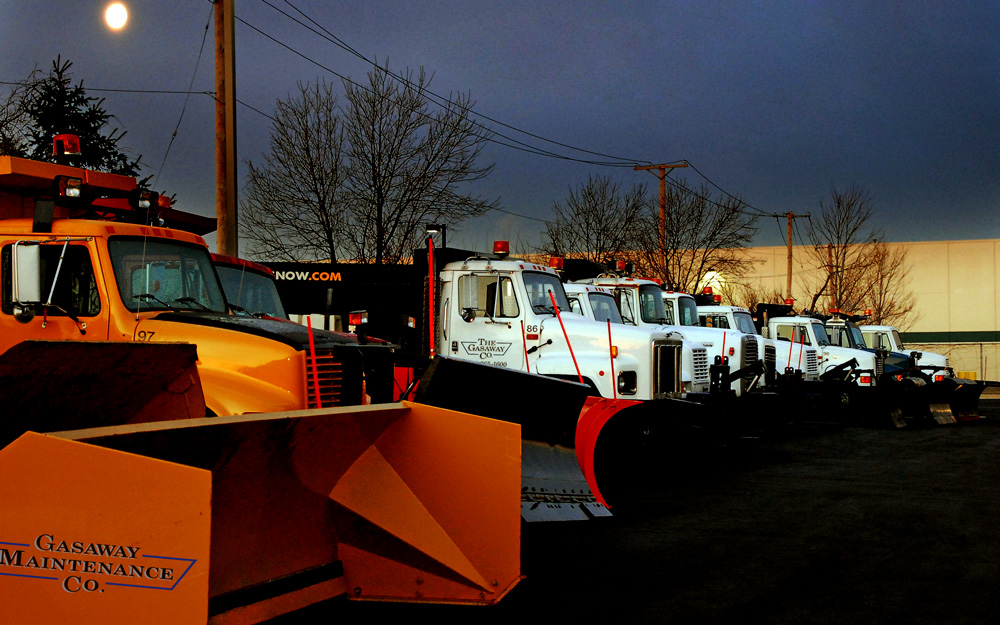 Company Facts: Best practices ahead!
How long has your company been in the snow and ice management business?
Gasaway Maintenance Company was founded in 1978. For more than 36 years, we have provided the the highest level of service to commercial property managers and owners in the Chicago suburbs.
How many locations do you have and what is your service area?
We own 4 operations centers in Romeoville, Lombard, Oswego and Monee, IL. Each facility houses equipment, deicer storage, salt depot and repair bay. During the winter months, we establish satellite facilities that house enclosed deicer containers and on-site equipment, depending on customer demand. Our service area covers the Chicago suburbs within a 30 mile radius of each of our facilities.
What types of service agreements do you offer?
We offer the following agreement types:
Seasonal – all services needed during an entire season
Per Push – daytime snow and ice clearing, night-time full service plow and clean up
Per Occurrence – set fee for providing each service, such as plowing the parking lot, clearing the sidewalks, etc.
Hourly – hourly fee based on the specific service provided
Backup – on-call resources to support client in-house teams
What property types do you service?
We specialize in commercial properties including Class A office buildings, manufacturing, distribution and warehouse facilities, healthcare, hospitals and retail centers. The size and scale of our fleet, our experienced staff and our proven business practices are designed to support critical business operations.
How much insurance do you carry to cover accidents and/or damage on my property?
We carry commercial liability insurance of $1,000,000 per occurrence; $5,000 medical expenses for any one person; $300,000 fire damage for any one fire; $1,000,000 personal and advertising injury; $2,000,000 general aggregate and $2,000,000 products comp/op aggregate.
We also carry $1,000,000 in automobile liability insurance, excess liability of $5,000,000 each occurrence and workers compensation and employers liability of $500,000 each accident, disease and policy limit.
Do you have a service guarantee?
Yes. We stand behind our work and carefully adhere to the terms and conditions of each client agreement. We make any necessary corrections to our contracted service without additional charge.
PlowSnow.com a division  of The Gasaway Maintenance Company  |  Romeoville, Illinois  |  630.985.1600